Dr. David Rahamut, D.C.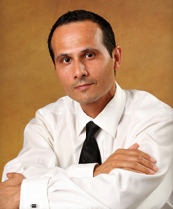 Our Doctors strive to bring Cleveland, TN a better way of living by the teaching and practicing of true Chiropractic Principles. Patients seeking care at Back In Motion Chiropractic are assured they are receiving only the finest quality care through the use of modern chiropractic equipment and technology. The doctor and staff have a genuine concern for your well-being! Sufferers of headaches and migraines will also benefit from the excellent care provided. Our technique for pain relief and complete wellness will surpass expectations.
Chiropractic care is safe for individuals of all ages – from infants to the elderly. In fact, Cleveland, TN chiropractic has been recognized as one of the safest and most effective forms of healthcare. Dr. Rahamut and his staff pride themselves on a safe and gentle approach to patient care. Chiropractors are educated to address many different types of conditions, most commonly those involving your nerves, muscles, bones, or joints. Conditions such as neck pain, back pain, and headaches are by far among the most common reasons someone visits a chiropractor. But, others have had great success with a wide range of other ailments, such as fibromyalgia, whiplash injuries, carpal tunnel, numbness and tingling, and pain in legs and feet, to name a few. At Back In Motion Chiropractic and Rehab, we pride ourselves on helping you get the care you need. The vast majority of all workers in the U.S. have coverage for chiropractic service in their medical plans. Chiropractic care is also covered for car accidents and workers compensation claims.